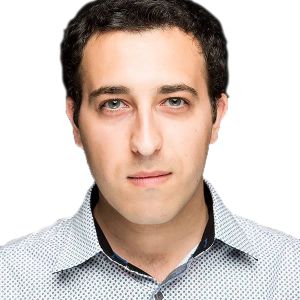 Born in Reggio Calabria, a small and beautiful city in the Southern Italy, and raised between Milan and Rome, Domenico discovered his passion for movies and literature at young age. Influenced by European artists and the style of the Old World, he began to write and direct his own short films at 12 years old. After obtaining his Bachelor's degree in Science and Technology of Film and Television Production, he moved to Rome to begin his Masters in Screenwriting. Luck may have it, he found a job as an assistant director for a theater production. The director noticed Domenico's inclination for the camera, and assigned him to create a full-length documentary of the entire project. Without even knowing it Domenico is on a plane to Russia and then Milan to film The Extraordinary Journey of Pinocchio, a project that connects children from the two biggest Italian cities with Moscow, the Russian capital, through the famous tale of the wooden puppet.
Back from Moscow and with a Masters in Screenwriting under his belt, his application for a 2-year Masters in Film Directing and Post-Production is approved. So a new adventure begins.
The documentary and the theater career earned him enough experience to enter the family of the TV Channel at the Vatican City, Tv2000, where, as a stage manager, he learned all the tools behind TV production in three years of live and recorded Talk Shows.
In 2009 he visits Vancouver to co-host the Web Series, Italian Adventures, produced and co-hosted by Lia Como, directed by Matteo Saradini. It is then he fell in love with the city and decided to move to the West Coast..
In his first year of activity in Vancouver, Domenico was very busy. With director and producer Matteo Saradini, he co-wrote and co-produced Residenz, the first viewer multiple choice series on the web. Then, after a brief stint with the video blog SoWhatDoYouThink.com as an editor and videographer, he joined a team of web TV aficionados and together built Jiggy.Tv, a Web Television Network, specialized in Corporate Videos, Reality Shows and Talk Shows. As an executive producer and main director and editor, in three years Domenico has created over 300 videos for more than 100 companies, allowing him not only to become highly knowledgeable about the corporate and reality show format, but to learn from the people he interviewed about life and business.
During a panel discussion at VidCon2013 Domenico was posed the question "Why you do what you do?" and he answered: "Ideas needs to be shown on wide screen and be heard by millions of people. I'm just the guy who brings the camera and the speakers and increases the volume".
DEMO REEL 2017
DOMENICO CUTRUPI – DEMO REEL 2010-2013